Articles:
---
Port Hope Council Rejects Entech-REM
Thanks again to all of you for your support. Please see following articles regarding the vote!
http://www.northumberlandtoday.com/2014/07/30/port-hope-says-no-to-rem
http://www.northumberlandnews.com/news-story/4727142-port-hope-council-denies-garbage-incinerator-applications/
https://www.youtube.com/watch?v=bHjqqvLQdmI
http://www.star933.com/index.php/2013-07-09-13-31-22/star-933-local-news/10360-entech-rem-next-step
---
Dr. Stan Blecher addresses Port Hope council on Entech-REM Danger
PORT HOPE – Two members of council took a step Tuesday toward resolving an issue that has provoked emotional responses in the community: the proposal by Entech-REM to locate a gasification plant in Wesleyville. Read more…
Read Presentation (PDF)
Presentation Background Material (PDF)
---
Can we revive 12,000 years of stewardship?
Please read this column that appeared after REMs presentation at Hamilton Township.
---
REM Chief Addresses Council
http://www.northumberlandtoday.com/2014/04/09/rem-chief-addresses-council
---
Pier 15 garbage-to-gas pitch raises concerns
A controversial garbage-to-gas project pitched for Pier 15 spurred lineups of people Thursday who waited to get inside a crowded open house. Read more …
---
Proposed incinerator on port lands a big surprise for council, public
Accepting a proposal for a new waste incinerator along Hamilton's industrial waterfront would be a step backwards for the city, says Councillor Chad Collins. Read more …
---
Cobourg Air Quality is Threatened
http://www.northumberlandtoday.com/2014/04/15/cobourgs-air-quality-is-threatened
---
Don't Just Recycle, Upsycle!
http://eedition.northumberlandtoday.com/epaper/pageview.aspx?issue=66602014041700000000001001&page=5&articleid=c03a8427-4f51-48e3-a8b8-69b5e4bc0353&previewmode=2
---
Port Hope councillors to hear anti-REM presentation May 27
Renowned Port Hope doctor and medical geneticist Dr. Stan Blecher will explain to councillors at an upcoming council meeting why a proposed gasification plant in Port Hope should be rejected. Read More …
---
North Las Vegas and Ada County Say No to Incinerator
When a developer abruptly dropped plans for a waste-incineration plant in North Las Vegas, a few hundred residents fighting the plans saw victory – the end of a contentious, if short-lived, proposal.
---
Bristol Borough Pennsylvania County Council unanimously approved a resolution to oppose the building of an incinerator in their community. They share the same concerns that many in our community have, as to why they are opposed to this method of waste management.
They are not waiting for more reports. They are taking action proactively to "SAY NO TO INCINERATION".
Article: VICTORY: Hazardous Waste Incinerator Defeated in Bucks County, PA
Article: Incinerator proposed in Bucks stirs opposition
Article: Bristol Borough Council unanimously adopts resolution opposing industrial waste incinerator
Facebook: https://www.facebook.com/pages/Ban-the-Burn-in-Bristol/237201626448164
Petition: https://www.change.org/petitions/bristol-borough-council-oppose-the-hazardous-waste-incinerator-on-behalf-of-the-residents-voters-and-taxpayers-of-bristol
---
Please read and enjoy this column: Blowin' in the Wind
And then add your comment, share and write a letter to the editor of Northumberland Today.
---
STROUD Town Council is urging residents to turn out in protest for the first day of a planning inquiry into the proposed Javelin Park incinerator. Read more ….
---
We have prepared the following notes to rebut the misinformation that REM's president, Mr. Lewis Staats provided to the author in this Toronto Star article by Raveena Aulakh titled "Port Hope residents worry about garbage incinerator".
Published in the Toronto Star on Saturday January 4, 2014.
http://www.thestar.com/news/gta/2014/01/04/port_hope_residents_worry_about_garbage_incinerator.html
---
---
---
---
Cloud hovers over East Liverpool following accident
July 14, 2013
By STEPHEN HUBA – Special to the Salem News , Salem News
EAST LIVERPOOL – An accident at Heritage Thermal Services on the city's East End sent a large cloud of ash and steam into the air Saturday afternoon.
Read more
---
A letter from Dr. Stan R Blecher to Northumberland News
July 13, 2013
Dear Sirs,
I wish to compliment you and journalist Paul J. Rellinger on the excellent front page article entitled "Property sale incinerated" in the July 4 edition of The News.  The effect that the proposed "gasification plant" is having, and would continue to have, on property values and on the commercial prosperity of the town in general is of major concern. Read more
---
Something smells in Port Hope and it's not burning garbage – yet
Aug 1, 2013 Northumberland Today
http://www.northumberlandtoday.com/2013/08/01/something-smells-in-port-hope-and-its-not-burning-garbage–yet
---
Waste management a county issue, mayor says
July 31, 2013 Northumberland Today
http://www.northumberlandtoday.com/2013/07/31/waste-management-a-county-issue-mayor-says
---
Entech-Rem project is by definition an incinerator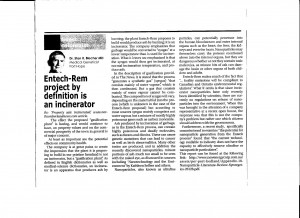 click image for larger view
---
Port Hope group works to fulfil post-nuclear vision
June 5, 2013 Northumberland Today
http://www.northumberlandtoday.com/2013/06/05/port-hope-group-works-to-fulfil-post-nuclear-vision
---
Ontario Liberals give municipalities greater say over wind and solar farms
May 30, 2013 – Toronto Starhttp://www.thestar.com/business/2013/05/30/ontario_liberals_give_municipalities_greater_say_over_wind_and_solar_farms.html

---
"Say NO to Mega Incinerator" Lawn Signs Reportedly Removed From Private Property
April 30, 2013 – Northumberland Today:
http://www.northumberlandtoday.com/2013/04/30/lawn-signs-reportedly-removed-for-private-property
---
Coverage of April 24th public information event with Dr. Paul Connett, sponsored by Port Hope Residents for Managing Waste Responsibly
April 25, 2013 – Northumberland Today:
http://www.northumberlandtoday.com/2013/04/25/society-must-take-circular-approach-to-waste-speaker-says
---
Incinerator would hurt not help – Northumberland Today column by Diana Storen
with cartoon by Barry King. Read column
---
"Learn more about incineration, councillor urges"
April 10 2013 – Northumberland Today:
http://www.northumberlandtoday.com/2013/04/10/learn-more-about-incineration-councillor-urges
---
"International expert to discuss dangers of proposed mega-incinerator"
April 10 2013 – Northumberland Today:
http://www.northumberlandtoday.com/2013/04/10/international-expert-to-discuss-dangers-of-proposed-mega-incinerator
---
"REM Application is Almost Complete Port Hope Council Hears"
January 23 2013 – Northumberland Today:
http://www.northumberlandtoday.com/2013/01/23/rem-application-is-almost-complete-port-hope-council-hears
---
"Port Hope Politician Tours Waste Plant in Poland"
December 14 2012 – Northumberland News:
http://www.northumberlandnews.com/news/article/1553408–port-hope-politician-tours-waste-plant-in-poland
---
Northumberland News Editorial:
"Port Hope Incinerator Discussions Should be Put to Bed for Now"
December 8 2012 – Northumberland News:
http://www.northumberlandnews.com/opinion/editorial/article/1550158–port-hope-incinerator-discussions-should-be-put-to-bed-for-now
---
"Wesleyville Man Shares Concerns Over REM Proposal"
November 25 2012 – Northumberland Today:
http://www.northumberlandtoday.com/2012/11/25/wesleyville-man-shares-concerns-over-rem-proposal
---
"Port Hope Group Wants Gasification Plant Plans Stopped"
November 23 2012 – Northumberland News:
http://www.northumberlandnews.com/news/article/1541973–port-hope-group-wants-gasification-plant-plans-stopped
---
"Group Forms to Oppose REM Proposal"
November 15, 2012 – Northumberland Today:
http://www.northumberlandtoday.com/2012/11/15/group-forms-to-oppose-rem-proposal
---
Letters to the Editor:
---
"Deny REM Application"
February 4, 2012 – Northumberland Today
read letter
---
"Incinerator Will Hurt Port Hope Jobs"
December 8, 2012 – Northumberland News
http://www.northumberlandnews.com/opinion/letters/article/1550151–incinerator-will-hurt-port-hope-jobs
---
"Gasification is Wrong for Port Hope"
November 25, 2012 – Northumberland News
http://www.northumberlandnews.com/opinion/letters/article/1541758–gasification-is-wrong-for-port-hope
"Say No to Renewable Energy Management (REM)"
November 11, 2012 – Northumberland News
http://www.northumberlandnews.com/opinion/letters/article/1533253–say-no-renewable-energy-management